The Talbot Sunbeam-Lotus was introduced to a shocked market in the summer of 1979.
With an up-gunned 2.2-litre version of the twin-cam motor that had been used in the Jensen-Healey sports car, it offered 155bhp in road trim, while competition cars pumped out 230bhp.
The Sunbeam-Lotus production process was an interesting one, and it is obvious why only so few were made.
Each car started life at Linwood as a 1.6GLS, but received stiffer springing and damping, along with a larger anti-roll bar, stiffer suspension mounts and tougher gearbox casings at the factory. The cars were then shipped to Lotus at Hethel in Norfolk, for the installation of the engine and ZF gearbox, before being taken to the Stoke works in Coventry for final pre-delivery inspections. The production process may have been convoluted, but the end result was a stunning road car. By the time production was halted in 1981, Lotus claimed to have built 2298 examples, although Talbot said an extra 10 were produced, probably due to pre-production and works rally car builds completed by the factory.
VITAL STATISTICS
Engine 2170cc/4-cyl/DOHC
Power 150bhp @ 5750rpm
Torque 150lb ft @ 4500rpm
Top Speed 121mph
0-60mph 7.4sec
Economy 19mpg
Gearbox 5-speed manual
WHAT TO LOOK FOR
BODYWORK & CHASSIS
Bonnets rot out at their front edges, as do the headlamp boxes attached to the inner wings. There is also a mud-trap just above and behind the indicator unit. Front wheelarch lips can rust away, but inner wings should be your biggest concern – strut tops corrode, as can the lower inner wings, so check them carefully. Original panels are difficult to source, and while repro panels are available, they're not cheap, so do bear this in mind. Another common rot spot is the front of the footwell, where it meets the bulkhead/inner wing joint. Mud gets lodged inside the back of the wing and the screen rubbers often leak – a nasty combination that can lead to horrible levels of rust. Also check carefully along all the sills and door bottoms. Finally, make sure you examine the rear arches, rear valance and boot floor, where the underfelt acts like a sponge.
Hard-driven cars with major engine upgrades have been known to suffer from cracks in the front chassis members, just to the rear of the ARB mounts. Such cracks are a serious problem, so make sure you check them scrupulously and don't miss them, especially if they're hidden by underseal. Welding plates over the cracks can solve the problem, but the whole crossmember may need replacing – either way, a whole lot of dismantling will be required.
ENGINE
General maintenance is surprisingly straightforward, with decent parts availability and no special tools required. Be aware that the Lotus engine is fragile if not serviced properly – its essential that both the oil and filter are replaced every 5000 miles, with top-notch oil used – fully synthetic is fine. The cambelt and tensioner must also be replaced at least every 25,000 miles or two years. When viewing a car, ask whether the previous owner has kept on top of this. Stick to these rules and the powerplant is easily capable of achieving more than 100,000 miles. Even better, it will happily run on Super Unleaded, too – some enthusiastic owners also add an octane booster to spice things up even further.
Be wary of regular Talbot Sunbeams being passed off as the real thing. Check everything against the V5C if you're concerned about authenticity – the VIN plate can be found in front of the radiator and the engine number is stamped between the starter motor and the cam housing. A Lotus shell has a larger transmission tunnel for the ZF gearbox – though not the same as an automatic gearbox tunnel – plus folded-back wheelarch lips to accommodate the large alloys and the modification of the inner rear panel to allow the spare to fit.
RUNNING GEAR
The ZF gearbox is a tough old unit, but make sure that it is still fitted to the car – the casing is highly sought-after by Escort rally car builders. When cold, it can be tricky finding second gear; however, when warm, changes should be smooth. If the car has been used for competition in the past, check the tubes where they meet the differential housing for twists, looking for looseness or general play. Fitting a limited-slip diff is another popular modification, particularly with competition in mind, so find out what has been fitted when viewing a prospective purchase
INTERIOR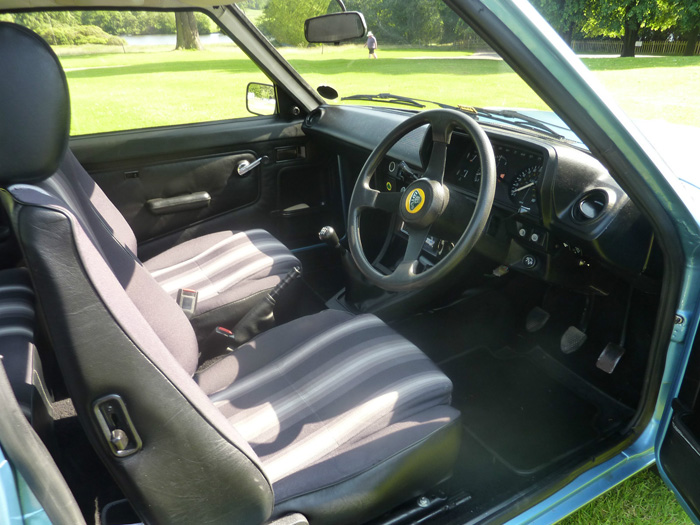 Interior-wise, the original Series 1 pale grey Sharktooth material is harder-wearing than the S2 striped Piccadilly material. Regardless of this, both are difficult to find these days. For moulded components such as the rear wheelarch covers, however, the reverse is true – S2 items in black are hardier than grey S1 versions.
VERDICT
If you're after a hot hatch, but fancy something more exclusive than a Golf GTI or 205GTI, the Talbot Sunbeam-Lotus fits the bill perfectly. In an era when everyone else was plumping for modern front-wheel drive set-ups, Talbot was busy doing the right thing and sending it to the back. Remember, Lotus probably knew more about how to set up a car in 1979 than most people do now, so the Sunbeam-Lotus is an extremely sweet little package, as well as being hugely rewarding to drive. It even has an impressive competition pedigree, too. A regular on the world rally stage between 1979 and 1982, it won the Lombard RAC Rally in 1980 and took the World Rally Championship the following year. With that heritage, combined with the fantastic sound it makes when you open it up, the Sunbeam-Lotus is seriously enticing.