These Victors and their VX4/90 derivatives were once so common as to be not worth a second glance. Not any more, though
The 'typical' Vauxhall Victor 101 has a vast and slippery bench front seat, with a three-speed column change. The controls are pleasantly light, and the car is rather comfortable, which matches its reputation as a lazy cruiser.
The low gearing makes best use of the engine's torque, so flexibility is surprisingly good. However, with a top speed of around 80mph, you're thrashing the car at motorway speeds – and fuel consumption will suffer. The higher-geared VX4/90 will do 25mpg, but a hard-driven 101 can drop below the 20mpg mark. At higher speeds, there's also a lot of wind noise, and the gearbox will be adding a musical howl to the proceedings.
Cornering is much as you would expect on skinny cross-plies, and body roll will discourage you from doing anything silly. As for brakes, remember that other drivers won't expect your greater stopping distances, so allow plenty of space around you.
Once you've got used to it, though, an FC Victor is quite a relaxing car to drive!
VITAL STATISTICS
VAUXHALL VICTOR (101 MODELS)
Engine 1595cc/4-cyl/OHV
Power ([email protected]) [email protected]
Torque (lb [email protected]) 95lb [email protected]
Top speed 80mph
0-60mph 20.4sec
Consumption 23mpg
WHAT TO LOOK FOR
BODYWORK & CHASSIS
The main reason for the low survival rate of the FC-series Victors is rust. Vauxhall had a reputation for it in the 1960s (and later, too), and the FCs didn't disappoint in that respect. Though apparently more sturdily built than rival Fords, they seemed to rust just about everywhere. Look for rust in the sills, the rear wheel arches, the floorpan and around the rear spring hangers – but these are just starters. Almost anywhere below the waistline may show rot, and you'll struggle to find replacement panels. That means items will most often have to be hand-made, which costs money.
ENGINE
The engines are pushrod OHV types, with an alloy head, higher compression and twin Zenith 34IV carburettors on the VX4/90. They are fairly robust units, if a little thrashy. Watch out for wear in the VX4/90's twin carbs and also for wear in the throttle linkages. Gearboxes were noisy even when new, and there was a distinctive Vauxhall whine in all gears. This gets worse with age, but in itself doesn't indicate that the gearbox is on the way out.
RUNNING GEAR
You won't be spoiled for choice when looking for an FC Victor, but it's worth knowing that the four-speed floor-change gearbox option makes for a better car than the three-speed column change type that was standard. The optional two-speed Powerglide automatic took away a slice of the car's already minimal performance, and getting parts for it today is simply a lottery. The VX 4/90 came with a limited-slip differential that was optional at first but standard on 1966 and 1967 models.
BRAKES
The standard braking system had drums all round, but there was an optional system with front discs and a servo, and this was standard on the VX4/90. It's obviously preferable to the all-drum system if you can find a car that has it. A weakness on all models of the FC-series is that the self-adjusters on the rear brakes tend to seize up, especially if the car does not get regular use. You'll know this is the problem if the brake pedal seems to have an excessively long travel before there's any bite.
Suspension was soft when these cars were new, and they did roll on corners. However, it's worth checking any car carefully for springs and dampers that are past their best, and for wear in the wishbones and ball joints at the front. Replacements can make a big difference.
INTERIOR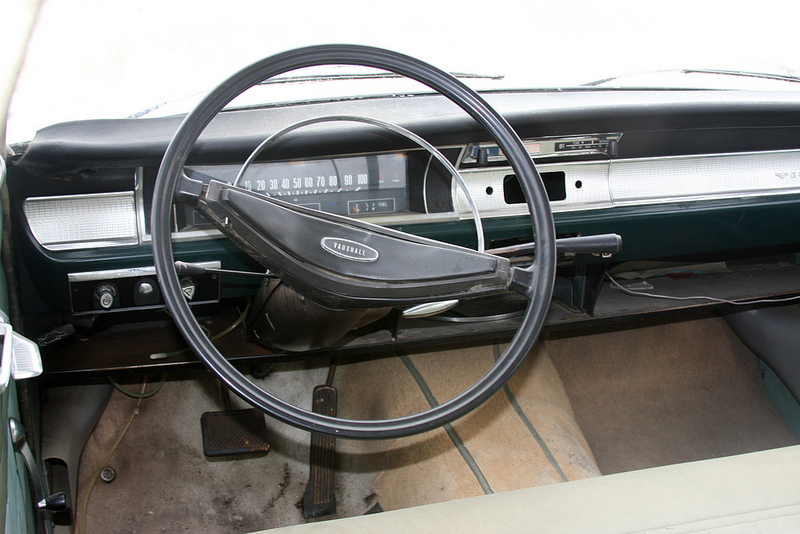 Replacing interior items will be a real problem, so make sure that the car you're examining has decent upholstery and door trims. These Victors were made when moulded plastic was the fashion, and moulded plastic is notoriously difficult to replicate. Always look underneath any seat covers; they may be hiding something! There were both bench and individual front seat options, the bench giving occupants no support whatsoever when the car rolled in corners even though overall comfort levels were quite high.
OUR VERDICT
A Victor 101 is not everybody's idea of a classic car, and scarce parts availability makes it one for the determined owner. But it offers a taste of motoring the way it was nearly half a century ago, and to get the full flavour of the experience you need to drive one for a long distance on quiet roads rather than flog it around crowded towns or on busy motorways.
As a 101 owner, you really must join a club for technical support and for assistance in finding spares. You'll need to develop a taste for autojumbles, too, and for rummaging to find New Old Stock parts to stash away against the day when you'll need them.
These cars are not glamorous, even though the VX4/90 with its extra side flash does have a dash of excitement about its appearance. They are cars for taking to summer shows and for enjoying on the way.
If you remember the 1960s and 1970s, you'll remember Vauxhall's FC-series Victors. The styling was a bit plain-Jane, but the cars gave plenty of family space in a medium-sized package, and with 1.6 litres under the bonnet were right at the heart of the everyday saloon range.
FC Victors arrived in 1964, and in three years of production a total of 219,814 examples were built. There were estate derivatives as well, and for those who wanted a bit more glamour there was the sporty VX4/90. In fact, 'sporty' was a relative term, and there were only 13,449 VX 4/90 models because the car couldn't compete with the Cortina GT that had cornered the market.
Check out www.howmanyleft.com and the figures suggest there may be under 50 survivors in the UK, and not all of those are still on the road!
Naturally we think it's time somebody did a bit more for awareness of these nostalgic machines. So let's hear it for the Victor 101 – so called, we hear, because it had 101 improvements over the FB that it replaced.