One of the things that delight most about the original Polo is its sheer simplicity. Take the cabin for example – devoid of frippery, it provides the driver with only the minimum of switches and instrumentation and is all the better for it. It's the same story on the road, as the Polo goes about its business in a thoroughly straightforward manner.
There isn't enough power to provide any excitement, but what there is is delivered to the road without fuss, contributing to an easy-going nature.
Light and accurate steering is a boon around town, while low kerb weight ensures agile handling. The brakes aren't its best feature but there's nothing wrong with their arrangement and they provide ample stopping power for the performance on offer.
VITAL STATISTICS
VW Polo 1.1 LS
Engine 1093cc/4-cyl/SOHC
Power ([email protected]) [email protected]
Torque (lb [email protected]) 53lb [email protected]
Top speed 88mph
0-60mph 15.4sec
Consumption 34mpg
WHAT TO LOOK FOR
BODYWORK & CHASSIS
Despite what some people might have you believe, VWs from this era do suffer from corrosion. Terminal rust
has seen-off many of these cars, so a thorough inspection for signs of filler or previous bodges is a must. Key places to check are the sills, wheelarches, front and rear valances, the bottom of the doors, the leading edge of the bonnet, and the bottom of the tailgate.
The front wings are a weak spot on the Polo, especially around the headlamps, along the top edge and where they meet the sill. New parts aren't available so if you find decent secondhand replacements for sale, it is worth grabbing them. Another risk area is around the front and rear screens so examine the rubbers carefully for signs of bubbling underneath, while models fitted with
a sunroof can see corrosion developing around the opening – it's a tricky area to repair properly.
Lastly, it's worth checking that exterior trim and fittings are intact as tracking down replacements for these aren't easy either.
If you find rot in any of the panels, then it's advisable to get a good look underneath. The floorpan and spare wheel well can get a bit frilly so make sure that the underseal isn't hiding anything nasty – lift the carpets if you can. And a look at the suspension mounting points is wise too, particularly those for the rear torsion beam.
ENGINE
The overhead cam engines were available in 895cc and 1093cc forms, and while neither were overburdened with power they were considered tough when new. Those that have survived will likely have been rebuilt by now, but the good news is that regular servicing is pretty much all that's needed. It's worth checking for any oil or coolant leaks and for evidence that the timing belt has been changed with some regularity – it's not a difficult job and parts are cheap, so it's not a major problem. Worn carburettors are often the cause of poor running – a rebuild or fitting of an aftermarket replacement is straightforward – while models fitted with an automatic choke may have been converted to a manual set-up.
RUNNING GEAR
There's little to worry about with the transmission – the road test will reveal any whines, or crunches caused by worn synchromesh. Listen out for clicking CV joints though. Steering, brakes, or suspension are unlikely to cause trouble either if they've seen regular maintenance. Lack of use causes the most problems, so you'll need to budget for an overhaul if the car has been standing for a lengthy period. Service items are easy to source and cheap though, while the straightforward layout makes the Polo a good DIY proposition.
INTERIOR
Inside, equipment levels were pretty basic by modern standards, the brochures boasting of luxuries such as a heated rear window, padded sun visors and reclining front seats! Lavishly equipped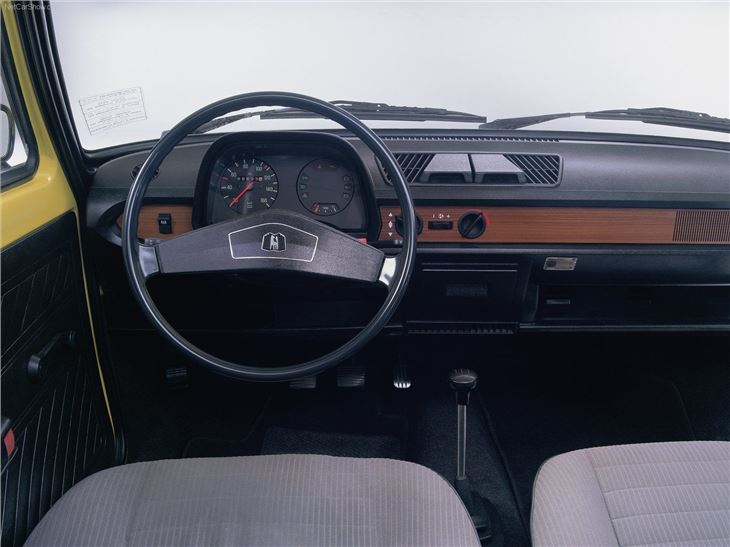 it certainly isn't, but it is civilised in a low-key, understated way.
The wood-effect dashboard trim fitted to most models isn't everyone's cup of tea though. While there's little to go wrong, the main problem is going to be finding one that isn't too tatty. Seats were a mixture of cloth and vinyl and while a professional re-trimmer can sort any rips or tears, it's best to avoid examples with damage to the dashboard or door cards. Ultimately getting a rust-free example is the most important thing, but the cost of restoring a tired interior will soon add-up. Sourcing trim parts could be a problem too.
OUR VERDICT
If you want a taste of classic motoring but on
a budget, the Polo is almost perfect. Simple mechanicals and a healthy dose of practicality make the little VW an excellent daily driver, and you're unlikely to find yourself parked next to another one. You'll need to avoid the rusty and decrepit examples, but a good one is a fine classic runabout.