Finding one may be the hardest thing, but it will be worth it. Chris Randall is your guide to the charms and practicalities of owning a Renault 5
Classic Renault 5 Mk1 Review
The Renault 5 pretty much set the template for the modern supermini and quickly spawned a raft of imitators, including the Ford Fiesta. A combination of chic styling and hatchback practicality attracted over five million buyers – and, if you like the looks, you'll be equally impressed by the way an R5 goes down the road. Sporty Gordini and Turbo models aside, modest power outputs mean performance is only average but it feels sprightlier than figures suggest.
We'd recommend one of the larger power units, since all offer good economy. Like many French cars of the time, the 5 benefits from soft, long-travel suspension that allows it to glide over urban ruts and potholes – it's far more comfortable than many other small car offerings, although the penalty is alarming body roll on faster corners. You do get used to it and can soon make the most of the accurate steering and light controls to best enjoy the limited power.
Early cars' dashboard-mounted gearshift takes a little more getting used to; the later floor-mounted lever is light and accurate. Another R5 plus point is the interior – it's somewhat spartan in early incarnations but roomy enough for family duties even if the rear seats are a little tight for the long-legged. The dashboard is logically laid out with easy-to-reach switches located around the instrument binnacle on later models, and just enough dials and warning lights to keep you informed.
The driving position is quite upright but is none the worse for that and most people should be able to get comfortable behind the wheel. It's worth noting, though, that space in the footwell is a bit tight for larger feet. The R5 is refreshingly honest and fun though, and that's good enough for us.
VITAL STATISTICS
Engine 1108cc/4-cyl/OHV
Power ([email protected]) [email protected]
Torque (lb [email protected]) 63lb [email protected]
Top speed 86mph
0-60mph 20.6sec
Consumption 45mpg
Gearbox 4-spd manual
WHAT TO LOOK FOR
BODYWORK & CHASSIS
Later cars received better protection but rust is still common on the R5. Check the top and bottom of the front wings (including inners), the bottom of the doors and tailgate, and the leading edge of the bonnet. Examine the rear wheelarches, the sills, front and rear screen surrounds, and the areas around headlamps and fuel filler.
Bubbling under the vinyl roof on later models should be treated with suspicion, and the plastic side cladding can also hide rot. A check of the floorpan is advisable too, especially around the rear suspension mounting points as sill corrosion can easily spread. Finding a complete, solid example is key with the R5 – replacement panels (indeed any exterior trim parts) are incredibly hard to source so restoration is unlikely to be easy.
ENGINE
Engines ranged from an entry-level 845cc 'Ventoux' unit through to various larger capacities up to 1.4 litres. The bigger engines were dubbed 'Sierra.' All are fundamentally sound if treated to proper maintenance. Alloy cylinder heads mean correct antifreeze levels are vital for longevity – check the whole cooling system as corrosion and leaks lead to overheating and inevitable head gasket failure. Rattling valve gear and perished valve stem oil seals that cause smoke on start-up are issues to watch for. Turbocharged Gordini engines will need extra care – blown turbo plumbing is an expensive fix.
ELECTRICS
Check the electrics. The wiring between body and tailgate is a weak spot and can lead to inoperative lights.
RUNNING GEAR
A four-speed manual gearbox was standard – five-speeders arrived later – and apart from whining bearings or worn synchromesh, should be trouble-free. An obstructive dash-mounted gearlever on early models is most likely a worn linkage – easily sorted. A floor-mounted lever was optional from 1975 and standard from 1978. A three-speed automatic arrived in 1979. Listen for clicking CV joints and check the clutch isn't slipping – replacement is fiddly as the steering rack sits on top of the forward-mounted gearbox and must be removed before the gearbox can come out.
BRAKES
Wear in bushes and joints apart, the rack and pinion steering is usually trouble-free, and the same goes for the brakes. Most R5s got a disc/drum set-up – early models were drums all round, though Gordini Turbos got discs all round – and basic maintenance will keep things healthy. Note that the handbrake operates on the front wheels on Ventoux-engined cars.
Suspension is by telescopic dampers and torsion bar springs at both ends. Upper and lower front ball joints wear quickly, and you'll need to check for rot in the torsion bar mounting points and those for the rear trailing arms. The bonded rubber bushes for the latter are now available from France. Wheels on all models used a three-stud fitting with some cars getting alloys as standard – check them for pitting and corrosion.
INTERIOR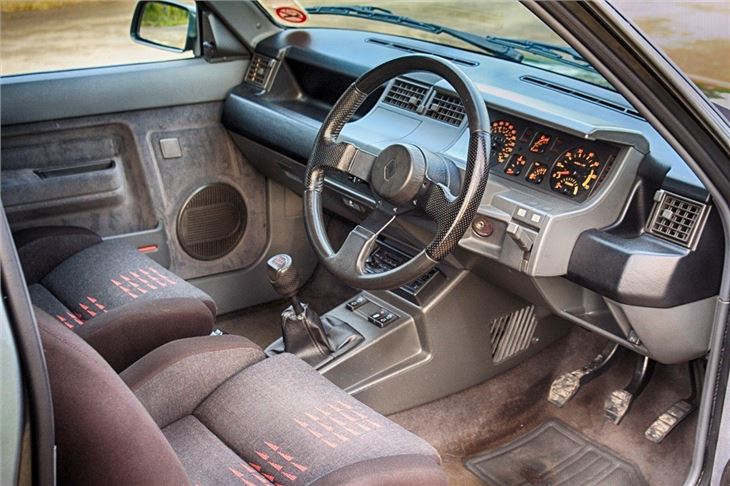 Pay attention to trim condition. Original fabric is unavailable and the foam can disintegrate, leading to saggy seats. Damage to dashboard or doorcards will be problematic, too, as replacement interior trim is extremely scarce.
OUR VERDICT
They may be very rare now but there is plenty to like about this fine-riding French hatchback. The comfortable interior and solid mechanicals add to the attraction, making this a fine choice as a small, but stylish, classic. Corrosion worries and lack of parts availability are concerns though, so you'll need to buy carefully. Find a good one, and you won't regret it.